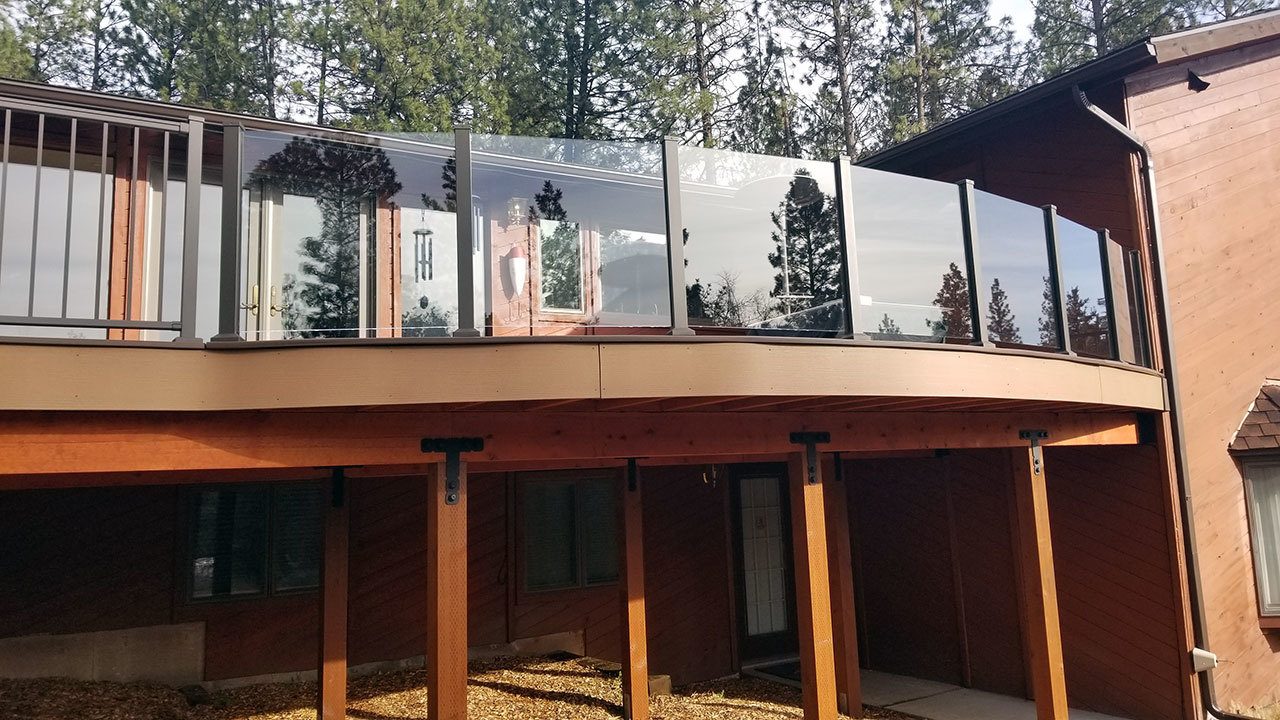 14 Dec

Choosing the Right Deck Railing

Deck railings are the crowning touch for your outdoor space. Not only do they offer safety, but they also provide a sense of style that allows your deck to blend seamlessly with the exterior of your home as well as the rest of your outdoor living space. Given the sheer number of options in railing designs, choosing the perfect one can be a bit overwhelming. Here are a few styles to consider as you develop plans for your outdoor living space.
FiberOn Railing
FiberOn is a leader in decking materials. Known for durability and longevity, they offer the homeowner peace-of-mind in knowing that their deck materials won't warp, peel, rot or splinter. And because the color is consistent throughout the product, your deck and railing will look beautiful for years to come. Not to mention they back their materials with a 20-year residential performance warranty.
Symmetry Railing
Symmetry Signature Railing – Symmetry Railing provides the ideal balance of great looks and lasting composite performance. The soft satin finish is elegant yet incredibly durable. A sculpted top rail adds classic style, while hidden hardware keeps the look clean and uncluttered. Three rich colors and two baluster choices create multiple design options.
ArmorGuard Railing
ArmorGuard – The Fiberon ArmorGuard Composite Railing system comprises four profiles and their associated brackets and accessories. Regency, Enclave, Classic and Deluxe Rail Systems are available in a durable white finish.
Elements Aluminum Railing
Elements – The sleek, minimalist design maximizes the view beyond your deck or porch, while the durable, long-lasting aluminum construction minimizes maintenance time and expense.
Clearview Railings (Century)
This unique glass railing does not block any of the magnificence of the great outdoors. Clearview railings are strong and versatile, using tempered glass for the ultimate in safety and transparent beauty. Clearview railings come with different accessories to create the beautiful look you wish.
A major perk of glass railings is that they can act as a windbreaker. Many homeowners who live near a body of water choose glass railings to act as a windbreaker as well as not block any of their spectacular water views.
Regal Railings
The Regal railing system offers a variety of durable and easy to install options. The low-maintenance aluminum design means it won't rust, warp, rot or need painting. It also has designs to fit a variety of styles and budget requirements. Regal also offers beautiful glass railing options, coupled with LED lighting they make an impressive addition to your outdoor living space!
Fortress Railings
Fortress railings are designed with quality in mind. Constructed with a unique anti-corrosion surface for a maintenance free lifespan. Fortress railings are known for strength, innovative features, versatility and ease of installation.
Do you need some expert advice on how to finish your deck off right? Ridgeline Decks is your go-to source for railing installation, as well as deck design and construction. Contact us to create the deck of your dreams!